Maximilian Berlitz grew up in the Black Forest area in Germany in a family of teachers and mathematicians. He emigrated to the United States in 1870. As a language fan, Maximilian learned Greek, Latin and six other European languages, using the strict, traditional "grammar-translation" method.
After successfully teaching as a private tutor, he became a student at Warner Polytechnic University in Providence, where he became a professor of French and German. However, the university was not as impressive as its name. Berlitz soon became the owner, dean, head teacher, and sole member of the faculty, all in one person.
Because he needed an assistant for French, Berlitz hired a young Frenchman named Joly, who of course had the best references. When Joly arrived in Providence, he found that his employer was completely exhausted, feverish, and very ill. The situation only got worse when Berlitz found out that his new assistant didn't speak a word of English. Desperate to find a way to use Joly to teach, he instructed him to explain the subjects using gestures and to express (show) verbs as best he could. Then he went back to bed.
BIRTH OF THE BERLITZ METHOD®
Six weeks later, he returned to his class in anticipation that his desperate students would be angry with him. Instead, he found his students engaging in an animated question-and-answer exchange — in elegant French. The ordinary atmosphere of the traditional class has disappeared. His students made much more progress in language than they would have made with Berlitz during the same period. Berlitz came to a significant conclusion: the "emergency solution" created the basis for an absolutely new method of teaching. The strict teaching method had to give way to an animated process of discovery.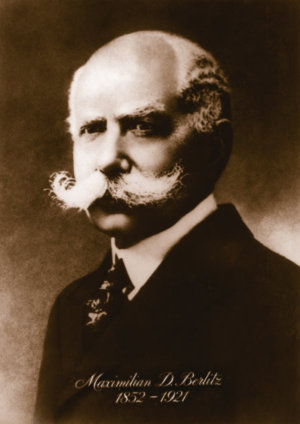 CHANGING WORLD
Since the company's founding in 1878, Berlitz has focused primarily on the needs of travellers and individuals. However, customer requirements changed in the 1950s. Berlitz company had to face a huge number of traders, experts and technicians preparing to be assigned abroad and in need of language skills in connection with their new tasks. Large companies ordered courses for their employees and families, and fast learning became a top priority.
Berlitz developed new programs that worked in parallel with traditional language training. After years of research, Berlitz caused a sensation with the Total Immersion Program. Total Immersion passed on new language skills extremely quickly, e.g., for traders on how to embark on assignments abroad.
The faster pace of teaching that students explicitly required led Berlitz to develop a new application of his basic teaching method. In this way, additional supporting material was used, for example, for vocabulary training and for practicing pronunciation. A development from which the Berlitz students currently benefit.
IMMERSION FROM THE VERY BEGINNING
Language learners around the world are excited about the Berlitz method ®. Whether for business or pleasure, animated active learning with Berlitz is one of the most successful methods of effective and fun language learning.
All our courses are based on the following strategic elements of the Berlitz method ®:
THE NEEDS OF COURSE PARTICIPANTS, COME FIRST
We perform a clear analysis of your needs: what your goals are, what situation you want to manage, and what linguistic knowledge you need to build on. This means that the teaching style is tailor-made for your personal language goals.
SPEAK AND THINK IN YOUR TARGET LANGUAGE FROM THE VERY BEGINNING
By gradually using the new language and communicating with native speakers, instructors and other students, you will be immediately immersed in the new language. You learn faster and your language progress will be much greater than during bilingual teaching.
A VERY HIGH PERCENTAGE OF THE TIME YOU SPEAK
Dialogue is the essence of Berlitz teaching. Only an active, lively form of teaching guarantees that you will be able to communicate in a new language quickly and without barriers.
TARGETED TEACHING
In order to achieve a balance between fluency and accuracy of expression, we offer you the opportunity to practice your language freely. During this time, we give you instructions and advice on how to improve and thus gain the confidence necessary for proper arrangement and expression.
INTUITIVE GRAMMAR
Grammar is corrected to balance accuracy and fluency. Boring grammar exercises are a thing of the past, instead, you will learn to use grammar correctly by actively speaking- "intuitively".
APPROPRIATE LEARNING
By using practical teaching aids, we work with you during lessons to find out what way you prefer to learn and how you learn most effectively. Your personal learning strategy will thus become part of the course. The choice of the study material also follows this principle and is based on your needs.
During our courses, we do not flood anyone with information or demotivate them; instead, we involve each student in lessons according to their language level. This ensures rapid progress and a high degree of motivation. 10 Berlitz levels provide optimal prerequisites for perfect course entry. They allow your language potential to be accurately assessed.